Maker of the Month: Elly Cole
Maker of the Month: Elly Cole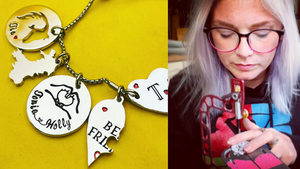 Originally a beader, maker Elly delved into the wonderful world of metal stamping and hand-cutting metal, and has never looked back. Elly Cole of London, England is our Maker of the Month for July 2023. She started making jewelry as a hobby to keep her entertained while her kids were young and her ex-husband was in Afghanistan, but was itching for something a little more. She felt as though her pieces were missing a little something, which is what prompted her to create her own personalized charms for her own jewelry pieces through the medium of metal stamping. After 10 years of making jewelry, Elly prides herself on making quality pieces for her customers.
Although excited to learn more about metal stamping and offer it in her beading jewelry pieces, Elly recognized that she would still need to differentiate herself in a saturated market of handmade jewelry makers, and needed a USP to entice customers to choose her jewelry pieces over competitors. That's when Elly started to learn how to hand cut her metal blanks that she would stamp and use for her jewelry pieces. Elly says that 90% of the blanks that she offers on her jewelry pieces are hand cut and custom made by her. She then uses these hand cut elements to hand stamp names and wording to further personalize these items.
Elly says that her focus is in Animal and Memorial jewelry and accessories, and makes jewelry, accessories, and some home decor that she sells through her brand
Zatyka and Cole
. When asked about why she loves being a maker Elly says, "For me it's always been my creative outlet, I love being able to picture a piece and eventually get it out of my head and into metal and a handmade finished piece. My focus on memorial pieces brings comfort to my customers at a bad time in their lives."
Although her hand cut elements are her differentiator, she says that her Beaducation
metal design stamps
are some of her favorite additions to her pieces. She also says that her favorite metal design stamp is
our sunflower design
. When asked what she would like to learn more about she says, "My next goal is to master turning finger and paw prints into useable stamps for use with metal clay and to start incorporating cremation ashes into my stamped pieces."
Thanks to Elly for being a loyal Beaducation customer. To see Elly's jewelry pieces,
check out Zatyka and Cole
. Do you want to potentially be featured as a future Maker of the Month?
Fill out our Maker of the Month form here
.