Maker of the Month: Kelly Finn
Maker of the Month: Kelly Finn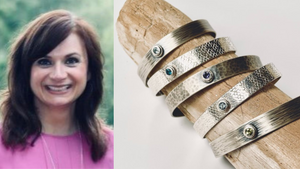 In the heart of Boston, Massachusetts, a maker with a passion for transforming sterling silver and gemstones into wearable works of art has been captivating the hearts of jewelry enthusiasts for the past 8 years. Meet Kelly Finn, whose journey into the world of jewelry making began with childhood memories and a deep love for textures and stories, and our Maker of the Month for August 2023.
Kelly's journey into the world of jewelry making can be traced back to her cherished moments spent with her beloved "Nana." Playing with what her grandmother fondly called "junk jewelry" became a magical experience for Kelly. Those discarded treasures, with their kaleidoscope of colors, textures, and sparkle, ignited a lifelong fascination with the art of adornment. Little did she know that these moments would shape her creative path in such a profound way.
Life often nudges us to make practical decisions, and for Kelly, the choice between art school and business school leaned towards the practical side. Business school won, but her creative spirit remained undeterred. Over the years, Kelly found various outlets for her artistic expression, including drawing, painting, sewing, and home improvement projects. However, it wasn't until fate intervened through a broken engagement ring that Kelly's true calling revealed itself.
When a prong on her treasured engagement ring snapped, Kelly saw an opportunity for transformation. This event led her to delve into the world of jewelry making, exposing her to the intricate art of metalsmithing. The moment her hands touched metal and gemstones, Kelly's creative heart found its home. The journey had begun.
In 2015, Kelly embarked on her metalsmithing journey by taking her first class. Since then, she has been tirelessly honing her skills and creating jewelry that seamlessly combines traditional metalworking techniques with her own unique flair. Her designs often feature organic textures and patterns, reminiscent of nature's beauty, and are deliberately oxidized to bring out the character and history of each piece.
Kelly's inspiration knows no bounds; textures found in nature and architecture, and the allure of time-worn objects, fuel her imagination. With a keen eye for blending mixed metals, her recent foray into working with gold has opened up new avenues for creativity. The combination of sterling silver and gold results in captivating contrasts, each piece telling a story through the marriage of materials.
Under the brand KFinn Designs, Kelly Finn has cultivated a brand that stands for timeless beauty, meticulous craftsmanship, and the art of storytelling through metal and stone. Kelly thrives on the challenge of bringing her visions to life and problem-solving along the way. Creating jewelry with a deep personal connection is her forte; pieces that hold meaning and significance for their wearers are her specialty. Kelly believes that jewelry should be an everyday celebration of art, not just reserved for special occasions.
Kelly says that Beaducation has been a great resource for information, tools, training and inspiration. Thanks to Kelly for being a loyal Beaducation customer. To explore Kelly's stunning creations and bring a touch of history and artistry to your life,
visit KFinn Designs
. Do you want to potentially be featured as a future Maker of the Month? 
Fill out our Maker of the Month form here.