Maker of the Month: Corri Riebow
Maker of the Month: Corri Riebow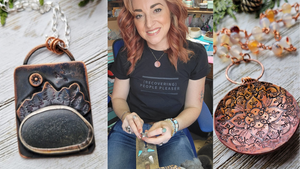 Paris Creek Jewelry creator and founder Corri Riebow is a Paris, Michigan native specializing in metalsmithing and metal stamping and is our Maker of the Month for May of 2023. Although creative for her entire life, jewelry-making for Corri started as a way for her to wind down at night as she would often find jewelry-making kits. These jewelry-making kits were perfect for her to get creative while her daughter was a baby and her husband was out of town for work. She started out working with string and macrame work and found it to be so fun and relaxing.
Originally a hobby and a way to relax, Corri's friends, family, and co-workers began to take notice of the pieces she was creating and encouraged her to start selling the pieces she made, she did just that by creating Paris Creek Jewelry. Corri likes to work very closely with her customers to create pieces that represent a special moment or memory between them and their loved ones and says she begins to form the concept for the pieces in her head while her customers explain to her what they're looking for. 
When asked what inspires her work, she says, "Nature is probably not surprisingly a huge influence in my work but I do a lot of custom work and love that I can memorialize special moments, people, or animals in someone's life. From birth or death to everything else in between, I have probably made a special piece of jewelry for that occasion for someone."
She loves making jewelry so much because she believes it to be very rewarding bringing ideas to life with her hands. She believes that's the beauty of handmade jewelry, it doesn't have to be perfect. Corri spends some of her time teaching jewelry-making classes, she says, "One thing I always like to remind people is that you are making something with your hands. Throw the idea of perfection out the window. My motto is to "Seek beauty, not perfection on your journey through life."
She encourages the individuals taking her classes to relax, enjoy the process, and embrace mistakes because sometimes the most beautiful things can come from mistakes.
Although a maker for over the last 13 years, Corri says she's always looking to improve her metalsmithing skills, and Beaducation.com has been an amazing resource for that. She says that the free jewelry-making classes that Beaducation.com offers are what inspire her to learn more daily on her jewelry-making journey. She even takes the skills she learns from our free online jewelry-making classes and teaches them in her classes. She says, "The free classes were a definite game changer, I learned how to become a better metal stamper, how to etch copper, and how to begin metalsmithing thanks to Beaducation!"
Thanks to Corri for being a loyal Beaducation customer. To see Corri's jewelry pieces, check out Paris Creek Jewelry. Do you want to potentially be featured as a future Maker of the Month? Fill out our Maker of the Month form here.